Finalize DVD, Finalize Disc, Finalize Handycam Camcorder Mini Disk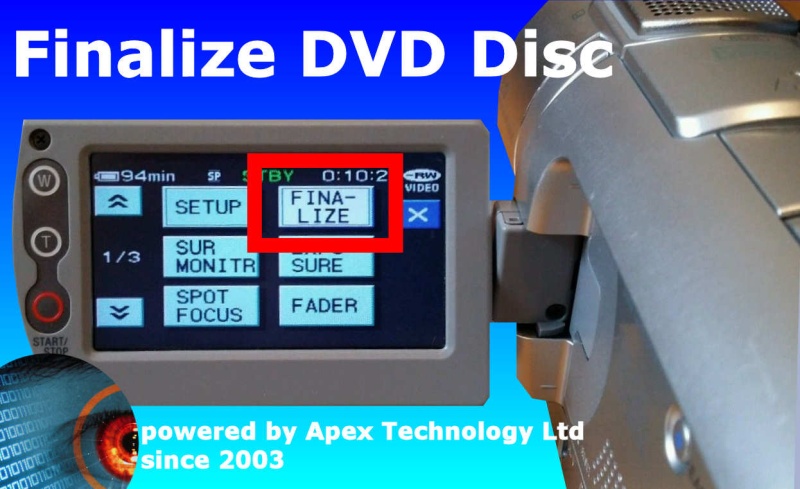 Finalise DVD Disc from Handycam Camcorder Video Camera Mini Disks
We can Finalize the DVD Disc from your HAndycam or Camcorder. Our friendly team are here to help recover your video data. Even Sony Service Centres have sent camcorders to us with this problem so we must be doing something right!
Why must you finalize the disc?
If you do not finalize the disc before removal from the camera, then it won't play in other video players, computers or video recorders. Finalization of the DVD writes meta data to the disc as well as DVD menus, indexes and file directory data to enable it to play on standard DVD systems. The camera cannot do this before you finish recording to the disk because final data locations cannot be known in advance. Once the disk is finalized, no more video data can be recorded to it. The finalise disk is an important step before disk removal and is often missed unless you read the manual carefully, or you have found disks will not play before you recorded too many important events.
Problems when trying to Play back DVD that was not finalized
Below are some common trouble list owners of DVD camcorders have experienced when haveing problems finalizing the disc.
I cant finalize the disc in my Sony DVD Camcorder
I have a Sony DVD-DCR300 camcorder. I tried to finalize the DVD in my Sony DVD-DCR300 camcorder, but I get a "not ready" message.
The DVD-R disc was removed before from the camera before it was finalized. I need to save this disc movie
I cannot finalise my DVD+RW disc - it is showing empty and blank where the video clips should be
I have a pile of unfinalised disks and have got rid of the handycam. Can the disks be finalised for playback?
After finalising the disc appears blank and wont show any of the video clips.
Disc not finalised. Now camera screen shows Disk Access Error message
The camera was knocked during finalization process and now disk will not play or appears empty
Rec. Disabled error message is showing on the LCD display
C1302 error after finalisation attempts - camera refuses to play the video
The battery power died while I was finalizing the disc
Recover wedding video from dvd that was not finalised
Finalise DVD Disc from Handycam Camcorder Video Camera Mini Disks
Finalise DVD Disc from Handycam Camcorder Video Camera Mini Disks problems that we recover data from are listed below.
finalise,mini,dvd,disc,disk,trouble,problem,finalising,finalise camcorder disc, finalize handycam disc,dvd-r,dvd-rw,dvd+rw,empty,blank.
We finalize mini DVD disc from Camcorder Handycam and recover video when DVD is not finalized. We can finalise mini disc, finalise mini DVD Disks ,finalise dvd.

For further information on Finalise DVD Disc from Handycam Camcorder Video Camera Mini Disks see this info