E:31:00 E3100 HDD format error Video Recovery Sony Handycam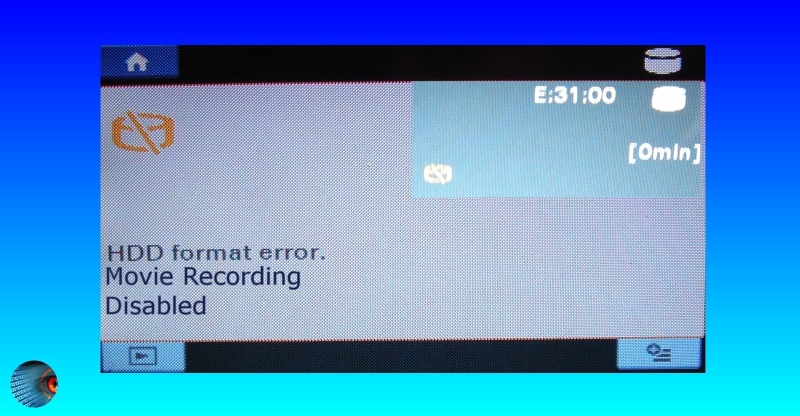 E:31:00 HDD format error Sony Handycam Camcorder Recover Transfer Video
Eliminate the E3100 error message. Our friendly team are here to help recover your video data.

Even Sony Service Centres have sent camcorders to us with this problem so we must be doing something right!


So your camera displays the error code E:31:00 and says "HDD Format error. Please format". Along with the error, it shows 0 min (0 minutes). Trying to put new footage on it produces the "Movie Recording Disabled" screen. Oh what joy! You may try to reformat, it tries to format and then says "Drive error" or "unable to access the HDD" Next you do what everyone does when a piece of electronics hardware won't work - you either hit it, shake it, give it some vibration as we all need to show it who is boss. Or you could turn it off and power on again. However the screen message remains and now it won't take pictures or video. So what does the Sony manual have to say on the subject - a few comforting words like its ok if you press XYZ button - and everything is back to normal? Unfortunately no - it says a malfunction has occurred which you cannot service - contact Sony dealer or authorised Service Centre. So now you are worried - but keep reading ....
In our experience this is usually down to the hard disk itself. It will have some bad sectors or CRC errors on the hard drive. Before you finally get to this faulty stage, it is likely the camera may have shown some early signs of this wear and tear on the disk drive. Perhaps the USB may not connect to show the camera on your computer desktop or as a drive letter. Other times video transfer was slow or intermittent. That is is you have ever transferred your videos off the hard drive at any time. You did .. didn't you? Well at least you were going to do a backup at some stage but the cat needed feeding first then you forgot about it. Don't worry - most of our customers fall into the category so you have plenty of company.
Some common enquiries we receive concerning this problem
I have connected my camcorder to the desktop computer and it shows nothing but the E 31:00 HDD Format Error and it also shows 0 minute. How can I recover my videos? I have this error on my SONY DCR SR68. "unable to access the HDD" while I'm trying to format it. How can I solve this problem now? I have a Sony Handycam DCR-SR which keeps showing HDD ACCESS, HDD format error, E:31:00, makes a few funny sound too and it continues to show 0 minutes. The camera does not show up on any computers i plug it into either.
How to prevent Handycam's E:31:00 in future.
Probably nothing will prevent this. Treating your camera gently may prolong its life. But at the end of the day, it contains a very delicate hard drive, which can accumulate many errors - perhaps before you realise it. The trouble is that unless you are regularly viewing your movies on the camcorder, it is unlikely you realise a problem may be developing before it is too late. As always with digital gear it is better to backups regularly to a different usb hard drive or computer or dvds.
How to restore your camera for continued use
... only AFTER recovery! The HDD FORMAT ERROR may occur if data becomes corrupt on the camcorder's hard disk drive. To resolve this issue, it will be necessary to format the hard disk drive and reset the camera to factory specifications. Usually you have to press the reset button located on the Camcorder near the LCD screen. If the issue is still not resolved, a new HDD may be required, especially if you have "unable to access the HDD" displayed.
E:31:00 HDD format error Sony Handycam Camcorder Recover Transfer Video
E:31:00 HDD format error Sony Handycam Camcorder Recover Transfer Video problems that we recover data from are listed below.
E:31:00 HDD format error, Movie Recording Disabled, E-31-00, E3100, E:31:00 error, sony handycam e-31-00 error, camcorder E3100, handycam format error.
Recover video from e3100 E:31:00 HDD format error Sony Handycam Camcorders movie clip footage unable to access camera and transfer video clips.

For further information on E:31:00 HDD format error Sony Handycam Camcorder Recover Transfer Video see this info